Elekin

Erekin

(エレキン, Erekin)

Debut (Manga):
Debut (Anime):
Elekin
Time Period Located:
12th Century AD - Japan
"
Eleki, Eleki! Eleki-ki-ki-ki!

- Elekin's speech in the Japanese dub
"
Appearance
As stated in episode 20, Elekin resembles a edo period style electrostatic generator the Elekiter
Early promo art shows he was originally brown in colour and looked more different even in his regular form. His concept appearance is seen in episode 1 (Japanese dub only), episode 2 (Japanese dub only) and episode 23. However, magazines showed his design more closer to the animes final appearance. This means the design changed after the first few episodes were put into production.
Personality
He is easily excitable and is the most ecstatic of the Shfiters shown and when happy lefts his feet up and down.
Abilities
Generates electricity after his crank in turned. Can attack with electric shocks.
Forms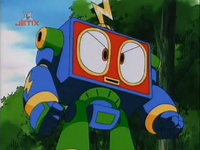 He shoots lightning. This form lost to
Raldo
-Kon.
History
Elekin first appear in episode 20.
Etymology
His name comes from the "Elekiter" ("エレキテル") of which he is based upon.
Trivia