Leafy

Riifii

(リーフィー, Riifii)

Debut (Manga):
Debut (Anime):
Leafy
Time Period Located:
6th Century - England
Seiyū:
Voice actor:
Leafy is a Time Shifter who is first seen in the Bom bom comics but does not have a part in the storyline. He is likely the finished version of another Time Shifter from the original manga called Hanasaka due to their same powers.
Personality
Leafy is a peaceful Shifter who normally is gentle by nature.
Abilities
Leafy has the ability to create flowers.
Forms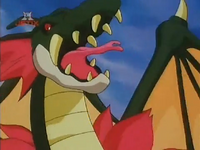 Leafy-Con resembles a dragon and breathes fire. His skin was also as hard as diamonds and could not be broken by
Rocky Hammerhead
. This form has the strength to easily beat
Raldo
Master.
History
In episode 30, Leafy was sent to help Flint while he dealt with Bugsy-kon. Leafy transformed into Leafy Master and managed to make Ninja stop fighting, leaving Bugsy-Kon to be fought with alone by Flint with no interference.
Etymology
His Japanese name just means "Leafy".
Trivia
Leafy is female in the original Japanese dub, male in the English dub.