Miyamoto Musashi
Debut (Manga):
Debut (Anime):
Affiliation:
Historic Figure
Seiyū:
Voice actor:
Miyamoto Musashi was a character Flint Hammerhead and his friends encounter. He is based on the swordsman of the same name.
Depiction in the show
[
]
He is pictured as a troubled swordsman, with the potential to be great but unable to show his full potential due to a confidence issue. The stress made him an easy target for the Uglinator. Thanks to Flint and his friends, he develops the courage to become the warrior history remember him as.
History
[
]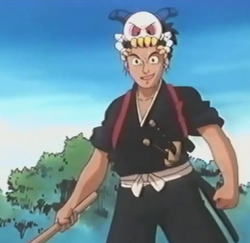 Trivia
[
]
Musashi did not gain a skull mark nor the black under shadow that victims of the Uglinator previous gained in Episode 32 when the Uglinator took control of them.
He was the final historic person that Flint and his friends met, outside of Merlock's accidental meeting with Yang Guifei.