Musey

Muscy

(ミュージー, Myuujii)

Debut (Manga):
Debut (Anime):
Musey
Time Period Located:
18th Century - Vienna, Austria
Seiyū:
Voice actor:
Personality
Musey does not like being captured and was shown to hide in the face of danger.
Abilities
Musey has the ability to create music that can influence people's feelings. In one instance, he causes everyone to cry with joy as his music made them remember their happiest memories.
Forms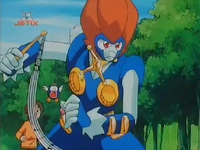 Musey as Musey master can create a lasso made of music staffs + ledgers with notes on. He can also fire beams from his chest. This form was easily beaten by
Knuckle
-kon.
History
Musey first appears in episode 28. He had become a theater mascot that Wolfgang Amadeus Mozart and Ludwig van Beethoven worked at. He befriended Beethoven.
Musey was sent to help Flint against Knuckle-kon in episode 33, but was easily defeated by the other Shifter.
Etymology
Normally Myuujii ("ミュージ") is Japanese for "Musical", though the extra "ー" after the "ミュージ" (making "ミュージー") changes the way "ジ" would be pronounced in Japanese. It is likely a reference to "ジーニアス", the Japanese way of writing the word for "Genius", making his name mean "Musical Genius".
The English name is a play on a "Muse".
Trivia