Nightcap

Zoo-zoo

(グースー, Guusuu)

Debut (Manga):
Debut (Anime):
Nightcap
Time Period Located:
1830's AD - Copenhagen, Denmark
Seiyū:
Voice actor:
Personality
Nightcap was the only Shifter to not really do much at all, remaining pretty much inert.
Abilities
Nightcap can make people fall asleep, and he can enter peoples dreams.
Forms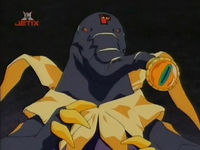 As Nightcap-Con he can confuse his opponents (which causes Flint and Talen-Master to fight each other). His abilities extend to even the conscious state, meaning someone doesn't need to be asleep to be affected by them.
History
He was found by the famous author Hans Christian Andersen who used Nightcap to sleep. Through his dreams Hans created many of the stories he is famous for today.
Etymology
His Japanese name "GuuSuu" comes from "Guu Guu" ("グーグー") which the sound of someone snoring.
Trivia