Shadow

Shadow Ninja

(カゲニン, Kagenin)

Debut (Manga):
Debut (Anime):
Shadow
Time Period Located:
16th Century - Japan
Seiyū:
Voice actor:
Height:
Weight:
Personality
Abilities
He creates clones of people by touching their shadows. The clones have the same abilities as the original version, but Shadow can mimic different aspects of a persons' personality. For example, Musashi's clones were more battle ready then he was when Flint first met him. Yamato Sora's clones exploited Narugami Kyoichiro fondness of her and Kyoichiro's own clone was less merciful. Though as seen with Kyoichiro, the clone is overall on par with the original's abilties, their more battle-ready nature means their slightly more ruthless nature can best the original.
The clones are dispersed if they are defeated.
Forms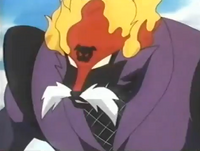 History
Etymology
His name follows the typical naming scheme of the Shifters in the Japanese dub, though instead of 1 word being used + 1 extra sound. His Japanese name is constructed of the Japanese word "Kage" meaning "shadow" and the triphone "nin". "Nin" is likely from the word "ninja" of which he is based upon. His name means "shadow-ninja".
Trivia
He is loosely based on a Tanuki