Space-Time Detective (時空探偵ゲンシクン) is the progonal manga published by Bros. Comics and contains many of the series original ideas and concepts. Its main protagonist is "Primitive Boy Genshi", a cave-boy who ends up in the future.
Overall
[
]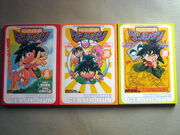 This is the first version of the series and contains prototype storylines. Unlike the Bom Bom Comics manga, it features many different approaches. Similarities are found between all 3 storylines, the main characters are present, but the Time Shifters have a different handling.
The stories are split between 3 volumes.